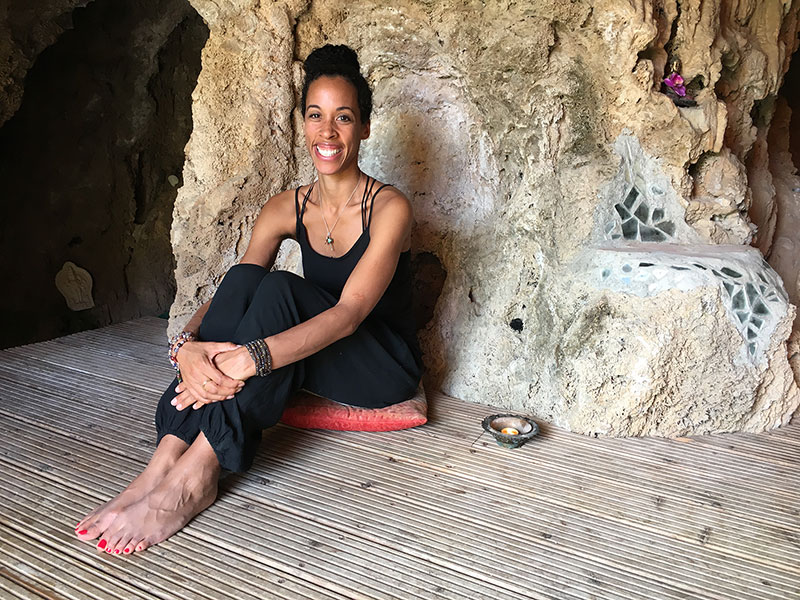 My own personal journey started when I first stepped on a yoga mat 20 years ago.   I had a 'lightbulb' moment if you could call it that!  Having spent much of my teens and my early adult life in a state of anxiety I came to realise that I had been living mostly in the past or in the future…but never really in the moment.  This was a moment that changed my life completely.  I went from a 'city girl' working in telecoms to train as a yoga teacher.
My initial training as a yoga teacher taught me a huge amount about the physical body, but this was just the start of the journey for me.  As my journey progressed I realised that I wanted to learn more about the mind as well as the body and how the two connect.  This is where I started to explore Mindfulness and meditation.
I spent much time talking to a wonderful mindfulness teachers, Buddhists and attending numerous retreats.  The teachings deepened my interest and knowledge. As I deepened my own practice I knew I wanted to take this beautiful gift further to help others.  I went on to take some trainings through Shamash Alidina and Breathworks which were both life enhancing and beautiful.
It was in 2011 that I really learnt the truth and reality of mindfulness and meditation.  I became chronically ill over night.  I was bedridden and unable to manage to walk more than a few steps at a time.  I was confined to the four walls of my bedroom and reliant on others to help me get around.  I learnt so much during this challenging time – how to sit comfortably with vulnerability, to ask for help and to be okay with suffering.  We all suffer at points of our life, there is no getting away from it.  My personal practice deepened like never before during this time.  It was tough going, really tough…..but offered me the greatest gift in both my personal life and within my work (little did I know it at the time).
Meditation and mindfulness has helped me profoundly to deal with own health, but also to live from my heart in a place of joy.  I taught me to find stillness in every day I live.  It has taught me how to value this precious journey called life, no matter what obstacles are thrown in my path.
Along my journey I have acquired other skills that help deepen this practice – NVC (non violent communication foundation), Transformational Breathwork levels 1,2,3,  Breath for life training, Somatic experiencing (foundation).
Its all too easy to whizz around at high speed and not show up for our lives. This I feel would be a huge regret when we come to the end of our days here on the wonderful planet called earth.  If we can learn how to press the pause button we can thrive in life rather than survive.  When we thrive we have a deeper sense of ease and wellbeing.
It is both a privilege and a gift to be able share what I have learnt with others and I continue to learn from my personal practice  and from all those I meet along the way.  My wish is that my teachings will ignite that spark in you that keeps you motivated to take good care of yourself and to become truly happy with your authentic self.
Please feel free to join my facebook group to be kept up to date with classes, workshops and special offers.  And of course I'd love to hear from you.